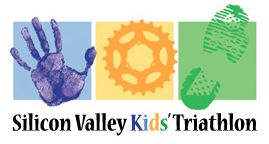 If you are looking for a great family friendly event to get your children introduced to the sport of triathlon, the 2012 Silicon Valley Kids Triathlon is for you.  The event promotes a fun and healthy way for kids to enjoy the feeling of accomplishment and encourage self-esteem.  Although they are older now, my kids participated in this event several times and had a blast.  From a parent's perspective this is a very well run and safe event and the volunteers do a great job.
The Silicon Valley Kid's Triathlon raises money for the Silicon Valley Children's Fund, a non-profit organization that benefits foster children in Silicon Valley.
More than 1000 children between the ages of 4 and 15 are expected to participate. The event begins at 8:00 a.m. on Sunday June 10th at De Anza College's swimming pool.  The distance of the race depends on your child's age group and ranges from a 25 yard swim, 1-mile bike ride, 1/4 mile run for those 6 and under to a 200-yard swim, 6 mile bike ride, 1-1/4 mile run for ages 13-15.  See route information below:
Click Silicon Valley Tri For Kids route map.
Come on out and make it a great day!