Compass Place condominiums, also known as Arcadia Terrace (named for the street the complex is located on), has always been a favorite condominium complex of mine.  Built approximately 14 years ago, Compass Place is conveniently located at the corner of Fair Oaks Avenue and Arcadia Terrace, near Highway 101 in Sunnyvale.  Comprised of approximately 240 units spread out among 16 buildings, most of Compass Place's units are either 3 bedroom 2 bath (sizes range from 1250 sf- 1300 sf) or 2 bedroom 2 bath (sizes range from 1058 sf – 1174 sf).  However, there are a few 1 bedroom 1 bath units (867 sf) as well.
The complex features a nice swimming pool with showers which is located between building 605, 607, and 609.  Note:  during the summer and early fall, the units in these buildings receive constant pool related noise.  Located between buildings 613, 615, and 617 is a children's play area, gazebo and small field.  Lastly, there is a larger grass field located between buildings 606, 608, and 610.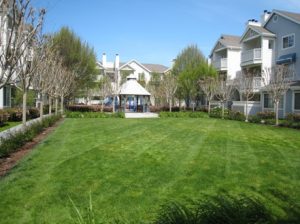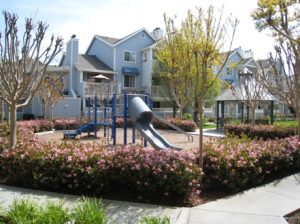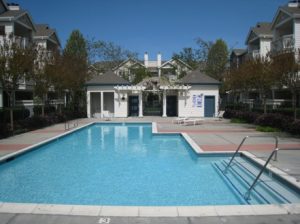 The buildings themselves are three stories tall and the front doors are accessible via an exterior stairway (there are no elevators).  There is second entry into each unit via an interior stairwell that exits at the ground level parking area and garages.  Note: most units have a single car garage (some garages are attached to the building and some are detached along the exterior of the property).  There are additional assigned parking spots as well as guest parking spaces.
The interiors of the units were originally built with the same amenities.  Most are still in their original state, but more and more are being remodeled.  Originally, the kitchens had white tiled counter tops, maple cabinetry and white GE appliances (gas stove-top).  The bathrooms where originally constructed with maple cabinets and a solid surface, all-in-one counter top and sink.  The showers and tub surrounds where also an all-in-one unit.  The master baths featured large soaking tubs.  The flooring was either linoleum and/or wall to wall carpet.
A nice feature of this complex is the large in-unit laundry area that houses a full size side by side washer and dryer (most are electric dryers).  No stack-able unit here!  The condos have decent sized decks (corner units are smaller) that are plumbed for air conditioning units.  Note: when the complex originally was built, not many buyers ordered the A/C units.  More and more owners are adding the A/C units.  They are especially useful for owners of the tops floor condos that get quite warm in the summer/early fall.  Lastly, for those of you who like real wood fireplaces, the condos at Compass Place have them.
Given the choice, buyers prefer the units located in the odd-numbered buildings because they are further from the traffic noise generated from highway 101.  Buyers also prefer the higher numbered buildings because they are farthest away from Fair Oaks Avenue and its traffic noise.  All things being equal, the most preferred buildings are 615 or 617 and the least preferred are buildings 101 and 102.  See development map below.
Most condo buyers prefer end units however at Compass Place, the end units do have some drawbacks.  For example, the decks on the end units are quite small and the view from the condo, in part, looks directly at the building next door.
I like the top floor units best because of the vaulted ceilings and there is no one above you, but they do have some minor drawbacks.  The top floor units tend to get more traffic noise (both from highway 101, Fair Oaks Avenue and aircraft noise).  As I already mentioned earlier, the top floor units are significantly warmer in the summer (and winter which is good).  Lastly, buyers have to climb three flights of stairs to access the top floor units.
All-in-all Compass Place condominiums have appreciated well over the years and have retain their value fairly well in the last two market corrections.  However, there is currently one unit for sale that is a short sale.  According to MLS records the owner bought the unit in late December 2005 for 500K and it is currently on the market for $519K.
Below are sales statistics compiled for the last six months at Compass Place.
Unit Number    Beds    Baths     SF      List Price     Sale Price
609   #201            3           2      1250   $554,000      Available
609   #306            3           2      1300   $545,575      Available
608   #104            2           2      1058    $519,000     Available
607    #101            2           2      1058    $514,950     Available
610    #303           2           2      1160     $508,000    Available
606    #201           3           2      1250     $559,000    $554,170
610    #202          2            2      1160     $529,000    $529,000
615    #302          2            2      1160     $529,000    $529,000
609    #102          1            1        867      $430,000   $412,000
If you are interested in this Complex, Please give me a call at 650 465-0755