Last Friday was one of the biggest broker tours in recent memory with almost 50 properties to view in Los Altos, Los Altos Hills and Mountain View.   In South Los Altos there were 8 new listings.  Does the large amount of new listings signal a change in our local real estate market?  Let's take a look.
According to MLS Listings Inc. data there currently are twenty-eight single family homes for sale in South Los Altos.  Eighteen homes are active listings and the remaining ten homes are under contract.  Lower price properties continue to sell quickly.  80% of the "sale pending" listings are priced under 2 million while over half the active listings are priced above 2 million.
August Home Sales Activity For South Los Altos – Highest number of sales since 2006.

20 single family homes (SFH) closed escrow in South Los Altos in the month of August.  Since 2007, the average number of SFH sales in November has been 14.
Thirteen properties had multiple offers and sold at or above their asking price.  Properties priced between 1.3 million and 1.6 million continue to receive the most buyer activity.
Click South Los Altos Real Estate Market Update – August 2012 for a detailed 24-month history of home sales activity in South Los Altos.
Are you curious to know what that house down the street actually sold for?

Click on South-Los-Altos-Summary-of-Sold-Homes-for-August-2012 for details (address, sales price, size etc.) on the twenty properties that closed escrow in August in South Los Altos.  Note: all data was taken from our local MLS and is deemed accurate but not guaranteed.
Median Sales Prices in South Los Altos are inching up:
Year to date, the median sales price for single family homes sold in South Los Altos is $1,827,000.  The graph below shows the last 5+ years of median sales prices in South Los Altos.  You'll note that the median sales prices in South Los Altos have steadily increased since 2009.  So far, 2012 has been a solid year!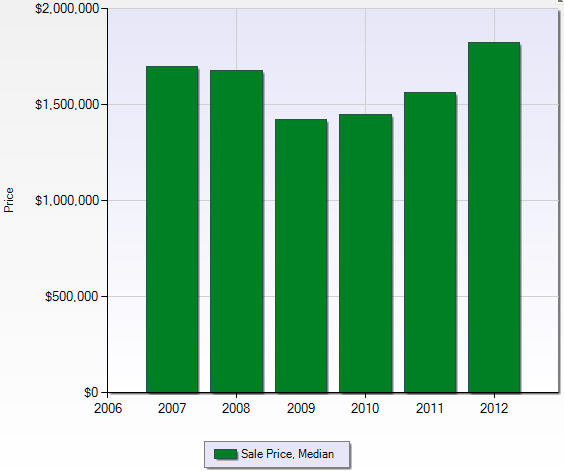 South Los Altos homes for sale:
[idx-listings linkid="86560″]
Interested in Selling your South Los Altos home?
Interested in Buying your dream South Los Altos home?
Give me a call at 650 917-4250
I've been licensed and actively selling residential real estate locally since 1993.