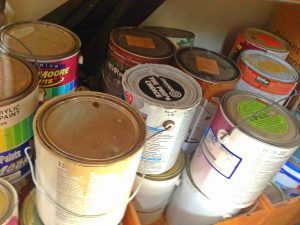 You just closed escrow on your dream home.  You are extremely excited and a little tired as you prepare to move in.  The moving truck has arrived and you have plenty of friends to help.  Unfortunately, you notice that in the corner of the garage is a stack of paint cans that the seller "forgot" to remove.  It's not a big deal if the paint matches the paint on the your walls because you can use it for touch up after you move in.  However, it can become a problem if the paint is old and/or doesn't match any of the existing walls.
Your excitement wanes because you now have to deal with disposing the paint.  You can't dump it in the trash can so you need to find a recycling center that takes old paint.  What a hassle!
Prior to a few years ago, a home owner would have to contact a recycling center, make an appointment and take the paint to a disposal facility.  That has changed.  Courtesy of the California Paint Stewardship Program, one just needs to take the paint to a local drop off site (usually your local paint or hardware store) where it will be recycled.  Did I mention that this service is FREE.  Click paint care drop off site to find the closest location.
The following products are accepted at drop-off sites:
Interior and exterior architectural paints: latex, acrylic, water-based, alkyd, oil-based, enamel (including textured coatings)
Deck coatings, floor paints (including elastomeric)
Primers, sealers, undercoater
Stains
Shellacs, lacquers, varnishes, urethanes (single component)
Waterproofing concrete/masonry/wood sealers and repellents (not tar or bitumen-based)
Metal coatings, rust preventatives
Field and lawn paints
I recommend that you contact your local drop off point to verify the amount of product that they will accept per visit and the type of paint you wish to drop off.  My local Kelly Moore (Mountain View) store will accept up to 20 gallons per day per person but all cans must be sealed with liquid paint (no paint that has dried up) and the paint must be in its original rust free container.
Are you interested in Selling your Home?
Are you interested in Buying your Dream Home?
Give me a Call at 650 917-4250
I'm David Blockhus and I have been licensed and actively selling residential real estate locally since 1993.